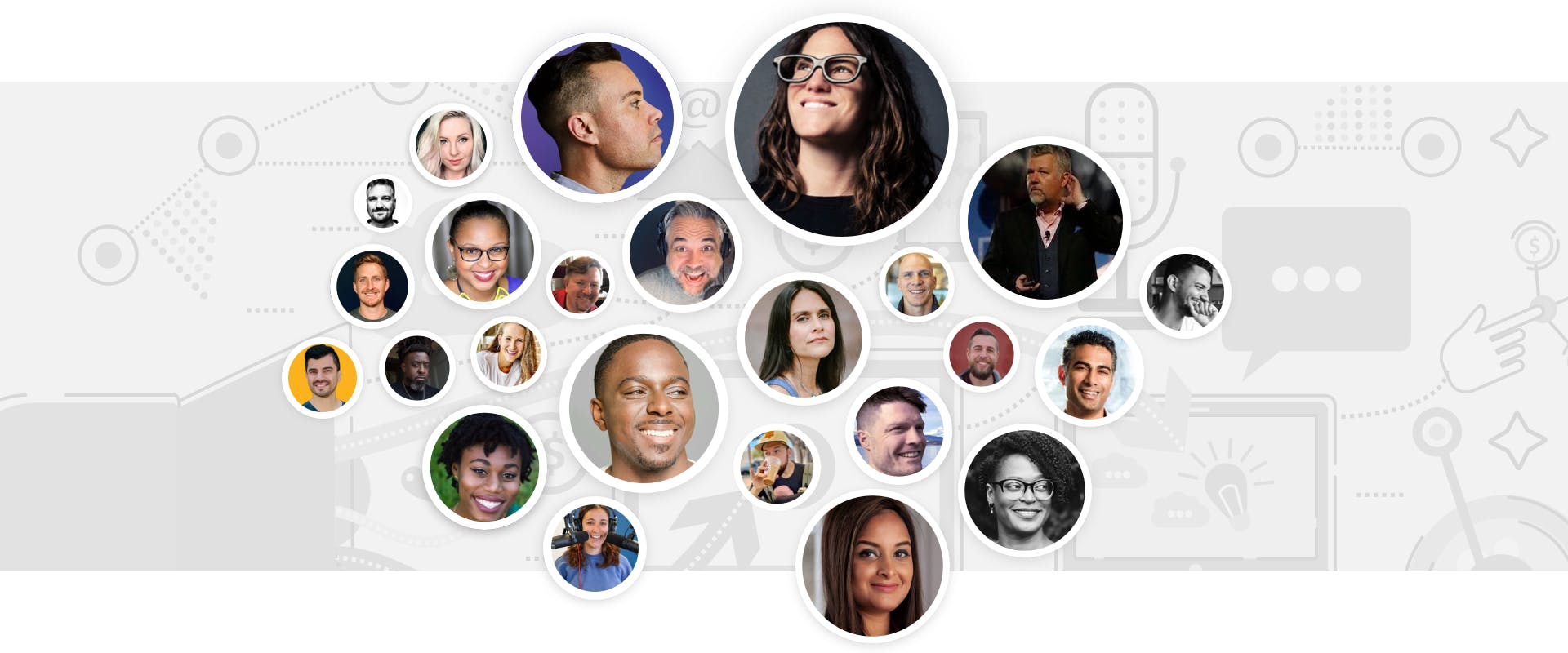 80 Podcasting Tips to Start a Successful Podcast [2021]
There's a learning curve to recording a quality podcast, but you can speed up the process by learning from experts in the industry.
We asked experienced podcasters to share their best podcasting tips so you can level-up your own podcast game!
JUMP TO SECTION:
Tips for starting your podcast
1. "Subscribe to all podcast industry and podcast recommendation newsletters out there. Your podcast is part of the very large -- and growing -- landscape of podcasts and you need to know what else is out there!"
-Arielle Nissenblatt, Feedback With Earbuds
2. "Consistency with both dropping episodes and promoting them is required to stand out at this point."
-Neil Mody, CEO of Headliner
3. "Launch with multiple episodes, ideally 3-5, so that listeners can get hooked on your show while also boosting total downloads to send some positive signals to podcast players (and a chance to get featured in Apple Podcasts!)"
-Corey Haines, Everything is Marketing
4. "Take the long view. Podcasting is no longer—if it ever was—a quick road to success. But if you put the appropriate amount of time, treasure, and intention into the project, over time you'll find it reach the audience it deserves."
-Evo Terra, Podcast Pontifications
5."Listen to and connect with your audience (or potential audience) first before launching a podcast. How or where you do that depends on your audience are online. There's no magic answer for this - it's a process of trial and elimination."
-Kerry-Ann Reid-Brown | Carry On Friends: The Caribbean American Podcast
6. "Know who you are for. You aren't just a podcaster, you are an advocate for an audience.
You are their lawyer, their counselor, their consigliere, and the one who fights for them, regardless of your guest or topic. Know who you are for, and let that guide you--not what you want to hear, say, or do."
-Tom Webster, I Hear Things
7. "Use organizational tools! ....Make sure you make it as easy as possible to devote time and energy to your podcast. Organizing your workflow will allow you to create a consistent production schedule and make a podcast you are proud of."
-Twila Dang, Matriarch Digital Media
8. "If podcasting is a passion, focus on that. If it's a business, invest in it like one. People who don't choose a lane are the ones who find themselves most frustrated by the industry."
-Bryan, Sounds Profitable
9. "Get organized and have a plan."
-Gilon, Walking Well Podcast
10. "...Think about the future growth of your show and start to document in a simple text file, all the repetitive tasks related to the production and marketing of your show. These will prove invaluable as your show grows and you begin to get help."
-Harry Duran, Podcast Junkies
11. "I encourage companies to answer two core questions as part of their strategy:
Who is this podcast for?
How does it help them?
The more specific you can get with these questions, the better. When you get really specific, you start to build a show for a very specific person."
-Tristan, Recorded Content
12. "Make content that you genuinely like, relate to, and are excited to share with other people."
-Chris, True Believers: A Comic Book Podcast
13. "Don't self host, use a reputable podcast hosting company (like Buzzsprout) to get efficient stats, and to get on every podcast directory available (usually for free, and without all the DIY hassle)."
-Badr, The Short Box and Next Spin Podcast
14. "Consistency is key to audience development."
-Jim, The Royal Palmcast
15. "Our #1 tip for new podcasters is to not overthink your first episode! There is always time in the future to change, update, and perfect your content. But to do that you have to have a starting point."
-Rebecca, The Institute for Rapid Resolution Therapy
16. "Be consistent. Whether you release an episode every week or it's a season, be consistent. On your off periods, inform your fans that a break is coming. That's still a consistent gesture."
-Mr. Al Pete, Clear Visions Podcast
17. "It takes a few recordings to figure out your podcast. Whether you're flying solo or have a co-host to help you navigate the podcasting waters, most people don't just turn on the mic and magically transform into a podcaster!"
-Krystal Proffitt, The Proffitt Podcast
18. "Don't get caught up in comparison...Remember, everyone started where you are, so focus on the first steps you need to get your podcast from an idea to a recorded episode."
-Sarah Li-Cain, Beyond the Dollar
19. "Be patient...Things often feel excruciatingly slow at the beginning, but stick with it and continue to focus where you're passionate. As long as your listener base is growing, even slowly, you're doing well."
-Brenden, Podpage Podcast Websites
20. "Make sure you're the person to do your podcast. The podcast world is saturated with armchair experts just riffing on whatever comes to mind."
-Kyle Whitaker, A Pastor and a Philosopher Walk into a Bar
21. "Learn the art of conversation...The art of conversation is about being a listener, being curious and knowing the outcome you want from your guest."
-Ludwina, The Room Xchange Podcast
22. "Start with your audience. Who are they? Get really specific. What sort of age group? Do they live in a big city, or are they part of regional communities? What language(s) do they speak? What do they do with their spare time? Why do they need your podcast?"
-Rachel Sibley, Podcast Lead at SBS
23. "Be authentic and own what you do."
-Aaron, The Inner Expeditions Podcast
24. "Get all your ducks in a row before launch!...Learn what an RSS feed is, find a good hosting site, know where you want to record, make sure your name is unique and not taken, etc."
-Taylor Florio, Malaprops & Moxie
Tips about podcasting gear
25. "My best podcasting tip is to get the best quality gear that you can afford within your budget and just do it choose your best lane as far as topics and schedule it and just do it get it done."
-Amin, Podcasting with Amin
26. "Don't get caught up in having the best sound, meaning don't spend more money than you have available for gear or on a place to record"
-Marty Logan, Nepal Now
27. "...get yourself set up with quality audio gear. There are tons of resources online that can help you select the best microphone, headsets and mixers that will have you sounding like a pro before you even tweak a thing."
-Will Rodriguez, The Skeptic Metaphysician
28. "No need for the most expensive equipment or best software, of course you want to ensure your sound is as best as can be. Ensure your podcast message brings value."
-Paula Lamb, Knowing Me, Knowing You
29. "There's no perfect time, no perfect microphone or headphones, no perfect recording software, no perfect logo...This is a learn on the job type of venture. The time to start is now."
-Nina Badzin, Dear Nina: Conversations About Friendship
30. "The key to attracting an audience (at some level) is to learn how to be compelling on the mic. That takes practice."
-Justin Jackson, Transistor
31. "...Be consistent for the long haul and start with your Why. Think about Why is your podcast important to your future audience rather than thinking about what mic you should get."
-Espree Devora, Women in Tech and WeAreLATech
32. "Make your podcast as professional as possible...Get creative, use the best equipment you can afford. Use a recording system which is broadcast quality. And don't forget to have fun!"
-Ruth Millington, Ruth Millington's Extreme Holidays Podcast
Tips for podcast recording
33. "Focus on your production quality. Don't record on your phone, or use conference lines like Zoom. I recommend using podcast audio optimized platforms like SquadCast, and Riverside."
-Fatima Zaidi, Quill
34. "Record video too! Even if you audio is your end product, podcasters are expected to produce rich visuals for other channels.
If you start with capturing high quality audio AND video, it's relatively easy to repurpose video clips of your podcast on YouTube, LinkedIn, and TikTok later."
-Jay Bouef, Descript
35. "Focus on prep because you build hosting skills over time. prep is the key to a great conversation with a guest and you can always outwork the competition. (for interviewers specifically)."
-Jordan Harbinger, The Jordan Harbinger Show
36. "If you are interviewing someone, make sure they keep their voice close to the mic. When they lean back it's easy to lose the audio, it can be edited afterwards but it makes it so much easier if they get their lips close to that mic!"
-Nick Bryant, Brilliant Businesses
37. "Batch record your episodes so you can simplify the process. Keep your energy level up while recording and have fun with it!"
-Jackie, Whole9Family
38. "Invest in a good mic and editing software. You will sound much more professional."
-Jen, The Swizzle Sisters
39. "...Ensure your guests understand how important it is for them to use an external mic (rather than the built-in microphone on their computer if you're doing remote interviews)."
-Will Rodriguez, The Skeptic Metaphysician
40. "Interview people who excite YOU not just people you think your target audience will like."
-Fleassy, Fierce-Gentle: The Courageous Voice Podcast
41. "...Spend the time and money to acoustically treat your recording space and make sure you invest in good equipment and especially good microphones."
-Phil Tower, Owner GrandCast Media
42. "Create templates for your email communications with your guests and a workflow on a platform like Trello. Both make staying on top of your podcast organization a breeze."
-Gerdi Verwoert, Daring Self-Leadership & The Nature Connection
43. "Create an interview protocol for your audience to be consistent with your podcast episodes content."
-Stacey Penna, Between the Data - NVivo Podcast
44. "Include a call to action snippet (at least in your first podcast episodes) which asks listeners to follow and rate your podcast.
You can for example ask explicitly to leave a review on apple podcasts and to hit the bell icon on Spotify. You should also mention that you have included a link in your show notes which explains how to do this."
-Erik Remberg, BITS & BUSINESS
45. "[Check] volume levels, proper distance from the mic, background noise etc. Especially if you have a remote co host or you're interviewing someone."
-Leslie, Delphian Realm
46. "Have your guests fill out a very thorough form a few weeks before recording. Not only does this weed out guests who might not be 100% committed but it also gives you all the info you might need at a later date."
-Lisa Anderson Shaffer, Joy is Now
47. "Structure matters! There are some podcasts that do not have any structure whatsoever... As a listener I sometimes stop listening to a podcast when I can't tell where the episode is going."
-Kaho Koda, Controversial Japan
48. "Get comfortable speaking to your audience by recording your story to just one friend on the phone."
-Beth McNamara, The Veil
49. "Mic technique! Every microphone requires a different technique to get the best possible sound quality. Distance from microphone, gain, and other factors will have a huge impact on the audio quality of your podcast."
-Sean, The Survivors
50. "Write an outline before you start recording!"
-Alban Brooke, Buzzcast
51. "If you record interview-style podcasts, be sure to create a pre-podcast checklist for your guests. Not only will this ensure that you are receiving the best quality audio from them, but it will also make them feel better prepared to be on your show."
-Bishop McCann, The Events Experience
52. "There will ALWAYS be problems in podcasting. The tech goes wonky...You need to be ready with a backup plan and have a contingency team waiting in the wings - or a willingness to get your hands dirty, do your best to figure it out and then let it go."
-Elsie Escobar, She Podcasts
53. Have your intro and outro speech typed up in an easy place to access, so you have a strong opening and closing and you don't have to struggle to remember the details.
-Ron, Severed Sons
54. "I enjoy trying podcast episodes with guest co-hosts. The guest co-host is usually very excited to participate and share the episode.
I have also asked podcast guests to recommend someone in their network to be a guest co-host for their episode."
-Jared, Podcast Movement
Tips for podcast editing
55. "My best podcast tip is to get the best quality gear that you can afford within your budget and just do it choose your best lane as far as topics and schedule it and just do it get it done."
-Amin, Podcasting with Amin
56. "I've found that the best thing that works for me is a routine. I've spread out the writing, recording, editing and publishing of my podcast throughout the week."
-Chantelle Bryant, Destination: History
57. "Use Magic Mastering (MM) available through Buzzsprout to make your sound so much clearer and leveled for all speakers."
-Michaela, Artisan Adventures from Ocelot Market
58. "Keep it simple. Continue to find ways to strip down your production process so you can focus on content, content, content. Content is King (or Queen!)"
-Veronica Hugger, Fat Loss Success Stories
59. "When I am recording, if I make a mistake I do a big clap near the microphone. Pause and then start that thought over. It makes is very easy to find parts I need to edit out when I am editing."
-Sheridan Ripley, Finding Joy in the Journey
60. "Find a process, from preparing your show, to editing and distribution, that is efficient but manageable long term."
-Stephen Robles, AppleInsider Podcast
61. "Don't worry about the length of your podcast. Let your podcast flow naturally. People know they can jump ahead if that is what they want to do."
-Dayna Owen, FISD's The Podcast
62. "Go for progress rather than perfection. It's too easy to let imperfections keep you from actually completing the task (recording, editing, etc.) You can always make progress and get better over time."
-JC Schroeder, Bite Size Seminary
63. "Know how long it will take you to prepare for your next episode, record, edit (if you're editing), upload, post to social media, etc.
...You want to build trust that your episodes will release when you say they will and creating a solid foundation for this process will set you up to be successful in the long run."
-Johnny Wolfenstein, Trick or Treat Radio
64. "Don't try to do too much in editing process. Keep it simple and precise. Don't try to do too much in editing process. Keep it simple and precise."
-Tommy Canale, Before the Lights
65. "...Assuming you can't afford to hire a professional producer, plan to spend at least 4x the length of your episode editing it (removing 'ums', vocal tics, background noise, and digressions; equalizing volume; adding non-distracting music judiciously, etc.)."
-Kyle Whitaker, A Pastor and a Philosopher Walk into a Bar
66. "...Give yourself ample time to rehearse, record a few takes, playback and see where to tweak so it sounds natural and flows well with great sound quality. This will save HOURS in post production."
-Leslie, Delphian Realm
Tips for podcast marketing
67. "Forget about making money, or at least don't let monetization be your overriding imperative for starting a podcast. People can smell desperation and lack of authenticity a mile off."
-Peter Bell, What's Racing About Podcast (The WRAP)
68. "Make your guest sounds great and make it easy for your guest to share the episode.
...We [provide listeners] with 3 benefits for listening to the episodes: the timestamp along with brief explanations and graphics for all social media."
-Christina Sjahli, Her CEO Journey: The Business Finance Podcast for Mission-Driven Women Entrepreneurs
69. "Repurpose your content! Transcribe your episodes for accessibility, use video snippets for social, create blogs, upload to YouTube! Maximize your distribution by reaching different audiences on different platforms."
-Fatima Zaidi, Quill
70. "Focus on gaining consistency with your production very early: the better you become at that the better your content becomes and the quicker you'll be able to produce that higher quality content, leaving you more time to focus on growth, marketing and promotion."
-Mark, CEO Captivate
71. "Even if it's not, and I'd say especially if it's not, think of your podcast like a business. It's important for reasons you might not expect."
-Tanner, Podcasting Sucks!
72. "...Give [listeners] quick on-ramps into your longer full-length show by sharing short 30-second to 1-minute highlight clips that have clear topics. Post them where your desired audience hangs out online."
-Jeff Dolan, The Wavve Podcast
PRO TIP

Grow your podcast by repurposing your highlight clip as a podcast promo on Buzzsprout Ads.
73. "Don't be afraid to be different. Everyone is doing endless interviews, making audiograms and tweeting their link to "podcast recommendations" posts. Now it's time to do something that other people aren't doing."
-Chris, The Business of Podcasting
74. "...Start thinking about [your] podcast as more than just an audio channel. It's a show. Your audience is more than a listener - they're a reader and a viewer, too.
...If you focus on having a great conversation and ask interesting questions...it becomes much easier to build out a variety of content from your core conversation."
-Tristan, Recorded Content
75. "Give listeners every opportunity to support your podcast! Set up a donation method and paid bonus content page prior to launch.
There are typically at no upfront costs to you and you can start building a bonus catalogue for future subscribers."
-Jordan, Dreamful Bedtime Stories
76. "Write out (in bullet points) your process behind each part of what you do for your podcast: the guest-booking process, the editing process, the marketing process....It will really help with maximizing your (probably very busy) schedule."
-Ludo, Qualified Tutor Podcast
77. "Find guests who have strong social media following so they can help increase your reach! Find guests who have strong social media following so they can help increase your reach!"
-Suzanna Keith, Hello Career Guru Salon
78. "Bring on other podcasters as guests that are enthusiastic about promoting their episode with their audience on social media....Always ask for the promotion from your guest, and always return the favor."
-Greg, Dead Men Walking Podcast
79. "Try to have a large Instagram or social media following prior to releasing the podcast- then u can promote it in an established viewership prior to release. So much easier to build an audience!"
-Susan, Lunch With A Healer
80. "Don't judge yourself by your downloads, or compare your downloads to other people's...Judge your podcast on what you want to portray, and how successfully you feel you have put across what you want to say."
-Claire, Creativity Found
Alban Brooke
Alban Brooke is the Head of Marketing at Buzzsprout and the co-host of Buzzcast. Have any questions about this guide? Reach out on Twitter.